Russia's invasion of Ukraine has created one of the biggest refugee crises of modern times. A month into the war, more than 3.7 million Ukrainians have fled to neighboring countries – the sixth-largest refugee outflow over the past 60-plus years, according to a Pew Research Center analysis of United Nations data.
There are now almost as many Ukrainian refugees as there were Afghan refugees fleeing the (first) Taliban regime in 2001, according to figures compiled by the UN High Commissioner for Refugees (UNHCR). They represent about 9.1% of Ukraine's pre-invasion population of about 41.1 million – ranking the current crisis 16th among 28 major refugee crises by share of population.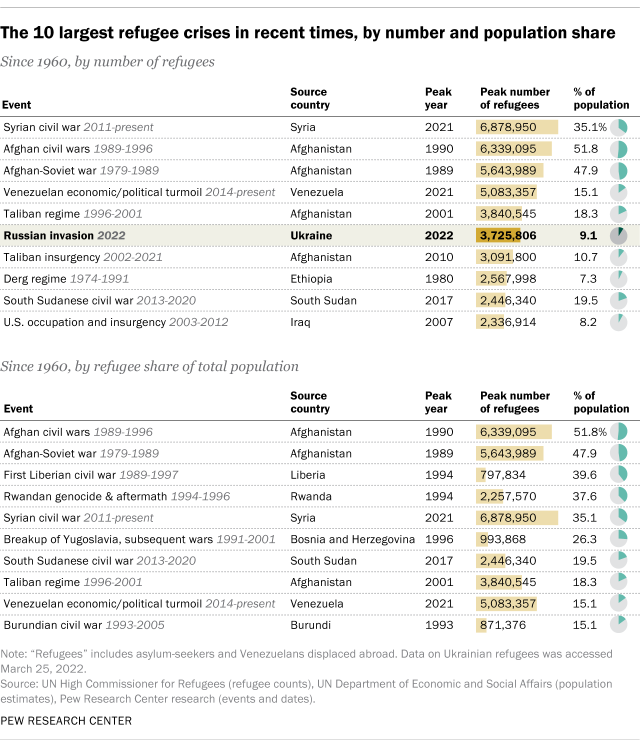 The Center examined all cases in the UNHCR's database since 1960 where there were at least 500,000 refugees and similarly displaced people from a given country in a given year. The analysis doesn't include "internally displaced persons" – those who have fled or been forced from their usual homes but haven't yet crossed an international border. (Earlier this week, UNHCR head Filippo Grandi estimated that, all told, 10 million Ukrainians – nearly a quarter of the population – had been displaced either internally or externally by the war.) How we did this
Syria's civil war, which began in 2011, has created more refugees than any other crisis since the early 1960s, when UNHCR began keeping data on individual countries. Nearly 6.9 million Syrians – about a third of the country's prewar population – are living as refugees or asylum-seekers outside their home country, with almost 3.7 million now in Turkey. An additional 6.8 million Syrians have been displaced from their homes but are living elsewhere in the country – meaning the civil war has uprooted about two-thirds of Syria's entire population.
Afghanistan, which has been at war either with itself or with outside forces for more than four decades, has had more than 2 million refugees every year since 1981. The peak year was 1990, after Soviet troops had withdrawn from the country and the USSR-backed government was battling to hang onto power against a coalition of mujahedeen groups. That year, more than half the country's total estimated population – 6.3 million people – were listed as refugees.
Venezuela has also seen massive population outflows over the past several years as the country's economy has all but collapsed, its government has cracked down on dissent, and opposition efforts to unseat President Nicolas Maduro's government have stalled. According to the UNHCR, more than 5 million Venezuelans are refugees in other countries, are seeking asylum, or have been otherwise displaced abroad – all told, about 15% of the current estimated population.